Department of Dance, Music, and Theatre presents
The Life of Galileo
Written by 

Berthold Brecht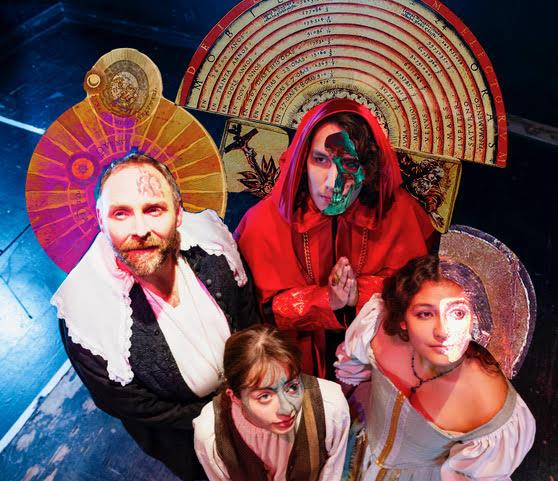 Set in 17th century Italy, the play hews closely to the historic life of Galileo Galilei and reveals the social dichotomies of the time. Galileo is the avatar of the emerging scientific method, skeptical and observant, pitted against the entrenched ideologies of the church and the power which it asserts over society through the control of information and the dogmatic restrictions of the faith.  
Brechtian plays are "epic theatre" self-consciously retelling a story rather than realistically embodying the events of a narrative. A combination of social observation and Spass (fun), it is a method that animates the theatre so that a lay audience might attend with the enthusiasm and critical interest of spectators at a football game. Evan Pierce, student stage manager for Galileo, says of the production "The design of this show is just incredible and the actors (18 actors! Playing 40+ characters!) have really given the script a life of its own. The script is dense, but the blocking and acting really does make it an entertaining piece to watch. The costumes are elaborate. The many props are unique and have necessary historical accuracy and yet they all look so amazing! Also–we have projections! Simply put, it's just fun."
Julie Eccles-Benson, co-director of the play, has been instrumental in helping students navigate the dense and difficult text of the play. The language, while "modern," is not casual dialogue. Stephen Chittenden, who plays Fulganzio the "Little Monk", spoke of the prose in the work "I don't see a lot of Brechtian theater in Humboldt. I have a feeling that people will likely be surprised by the asides as they are very much different in tone and direction than say Shakespearian asides; even if they share similarities."
While now considered a piece of classical theatre, Galileo still has a place in the modern repertoire. Co-director Craig Benson says the play is important because it reflects on "How we talk about science" in our society. Not unlike the church's reluctance to embrace the new scientific discoveries of the time, lest it disrupt the social order and their power over it, today's power brokers in some political circles are too apt to deny the mountain of evidence warning of the destructive consequences of climate change, over-consumption, and loss of biodiversity. The play also interrogates the values of constancy of an individual, even if they are remarkable, in the face of oppression.
Why come and see this play? In the words of Chittenden/Fulganzio "If not for the potent message of 'heed the words of science', at least come to the show to see what the students have been working to achieve."
Dates and Times: November 3rd-4th, 9th, and 11th at 7:30pm, November 5th and 12th at 2:00pm 
Location: John Van Duzer Theatre, Cal Poly Humboldt, Arcata CA 95521

Price: $10 General, $8 Senior/Child/Non-Cal Poly Students, and FREE for Cal Poly Humboldt students with ID

Ticket Purchase: centerarts.humboldt.edu

Contact For tickets: 707-826-3928
General Questions: Cal Poly Humboldt Department of Dance, Music, and Theatre, 707-826-3566, theatre@humboldt.edu
  Department of Dance, Music, and Theatre presents
Into the Woods
Written by James Lapine, Music & Lyrics by Stephen Sondheim
Dates and Times: March 22nd-23rd and 29th-30th at 7:30pm, March 24th and 31st at 2:00pm

Location: John Van Duzer Theatre, Cal Poly Humboldt, Arcata CA 95521



General Questions: Cal Poly Humboldt Department of Dance, Music, and Theatre, 707-826-3566, theatre@humboldt.edu